Veronica Compton extremely scarce crafted MASTER tape with music and poetry from 1992
The box and carboard on the inside and tape are signed numerous time and dated
$1,500.00
Closed
Postage

$25.00 to Canada
Express mail
Get Additional Rates
Select Country

Zip/Post Code

Quantity
2 watching 8 views
Seller Info
Redrumautographs (680 )
Registered Since

07/25/2017 07:31:39

Feedback

99%
Description
Veronica Compton extremely scarce crafted MASTER tape with music and poetry from 1992
---
The box and carboard on the inside and tape are signed numerous time and dated
This is a very unique and important piece of History that takes you inside the mind of Veronica Compton in 1992.
This was made behind bars and Veronica Crafted by her. She has titled this cassette the MEDUSA MASTER tape. There is a colored piece of artwork depicting snakes all over this tape colored in 3 different greens. All songs and poem titles written by her on the inside. There is a label on the tape titled MEDUSA and signed in full Veronica Compton.And the box is signed two times VER - 92
Great piece to own and to add to your Hillside Stranglers collection.
Veronica Lynn Comptonis a woman who attempted to copycatthe Hillside Strangler  at the request of Kenneth Bianchi, one of the killers, whom she had fallen in love with.
---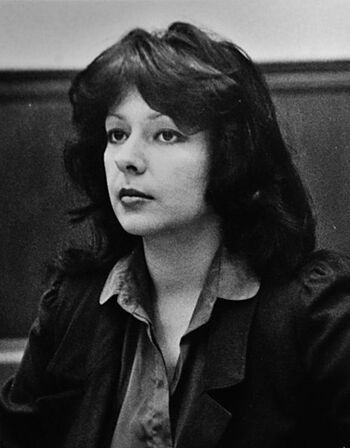 Name
Veronica Lynn Compton
Pathology
Copycat
(attempted)
Attempted Murderer
Modus Operandi
Strangulation(attempted)
No. of Victims
1 attempted
"There I was withthe Manson womenandCarol Bundy. All I could think was, what the hell have I done? This isn't me."
Veronica Lynn Comptonis a woman who attempted tocopycatthe Hillside Stranglerat the request of Kenneth Bianchi, one of the killers, whom she had fallen in love with.
History
Absolutely no specific information has been revealed about Compton's early history, other than she became an actress and playwright and that she developed a drug-induced psychosis along with a fascination for serial killers. At twenty-something years old, she wrote a screenplay titledThe Mutilated Cutter, which was about a female serial killer, and sentKenneth Bianchi, one of the two killers collectively referred to asThe Hillside Strangler, a copy of the script, hoping to gain his opinion about it. The two began to talk and eventually discuss about their murderous fantasies, similar to one another's in nature, and Compton fell in love with Bianchi. Bianchi took advantage of the relationship, hoping that he could convince authorities that the real Hillside Strangler was still on the loose. He invited Compton to visit him in prison, and he smuggled to her a plastic glove with a sample of his semen in it, instructing her tocopycata Hillside Strangler murder and plant the semen in the victim. Compton obeyed and went to Bellingham, Washington, with the semen in hand.
Using the alias "Karen", Compton selected her victim, 26-year-old Kim Breed, in a Bellingham tavern at around 10:00 p.m. The two stayed together for a prolonged time, during which Compton accompanied Breed as she did some grocery shopping and she went home to feed her children. Afterwards, they drank, did cocaine, and danced with some of Breed's friends. Compton then invited Breed to take a final drink in her room at the Shangri-La Motel, where she was staying; Breed accepted the offer. Compton then bound and attempted to kill Breed, but after a struggle, her would-be victim escaped and alerted a friend. Compton fled, taking a flight to San Francisco, California. However, upon arriving, she became hysterical and caused a scene in the airport. Compton also sent a letter and a tape to Bellingham authorities, claiming that Bianchi was innocent and pointing to the strangling attempt as proof that the real Hillside Strangler was still on the loose.
Police were soon able to connect the police report of the attempted copycat murder to the scene Compton brought up at the airport. She was arrested, convicted in Washington, and sentenced to prison with no chance of parole until 1994. Though Bianchi continued to write to her, Compton lost interest in him and fell in love with another serial killer, Douglas Daniel Clark, who, along with his wife and partnerCarol M. Bundy[1], killed and decapitated seven women, mostly prostitutes, in Los Angeles, California; he was sentenced to death row. Clark sent her a Valentine's Day-style letter with the photo of a headless female corpse, and the two began to write to each other until sometime in 1988. In 2003, Compton was released from prison after completing her sentence and hasn't been heard of since.
Modus Operandi
In the attempt to copycat a Hillside Strangler murder, Compton tied Breed's hands behind her and tried to strangle her with a cord twice. She intended to plant some of Bianchi's semen into the victim after killing her, but she had no chance to do it.
Known Victims
1980, Bellingham, Washington: Kim Breed, 26(bound and attempted to strangle)
Payments & Returns
Payment Methods

PayPal
Postage & Shipping
Item Location

H4K2T2, Quebec, Canada

Ships To

Worldwide

Pick-ups

No pick-ups

Shipping Instructions

Buyers choice!
Returns Accepted

No
Public Questions
There are no messages posted.
Post Message
Sign in
to ask the seller a question.